With an exceptional blend of experiences in Digital Marketing, Content management & a strong passion for writing, I have the perfect skill set for forging words into web-based gold. This is the work of a Digital Content Alchemist!

I started on my journey as a writer around ten years ago with the development of my blog

Soul Hiker

. My passion for communicating in words grew as a

freelance blogger

,

content writer

and

SEO copywriter

. My background in Digital Marketing & Online Media proved to be an indispensable ally in communicating effectively in a digital environment.

I can naturally combine my creative flair for writing with marketing elements such as creating effective CTAs, targeting 'buyer personas' in my copywriting and SEO knowledge.
---
What I Do

Learn more about my areas of expertise, the type of content gigs I am available for and how I will help you create some awesome, crowd-pulling content

My Portfolio

Have a look at some samples of my work and get an idea of my writing style and the quality level you are to expect when I write amazing content for you.

Beyond Words

See how I can help you deliver more oomph in your media projects through other related fields I have experience in such as content strategy & marketing
Powered by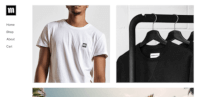 Create your own unique website with customizable templates.