What I do

I can help you power up your online media projects with sizzling content whether if it's creating web copy & marketing material to generate more leads and sales, building blog content to attract a wider crowd or writing share-worthy articles to create buzz around your business or area of interest.

---

Share-worthy Blog Posts

This is my main area of expertise where I excel in. I write for some of the most high profile blogs such as Life Hacker, The Mind Unleashed, Simple Reminders and many others. In these blogs I create articles that go viral on the social media most of the time.

I will create eye-catching headlines and engaging content written and formatted in a style that is pleasing and share-worthy. I know what makes the online crowd scroll down and click share. See some examples

Copy Writing & SEO

When you are creating a landing page to capture leads, writing a mail shot to cross-sell or a new section on your site, you need to design and craft the right content.

Some skills that are needed are understanding 'buyer personas', writing the right calls to action (CTA) and write copy that is optimized for search engines (SEO). This is where my background in marketing becomes an invincible ally to my writing skills.

Goal Oriented Web Content

Creating web content is an art. It's not about pasting text from your notepad to your site....it's more than that. It's about knowing how people engage and interact with it and how to build enough trust to lead them to a desired action, whether that is joining your community or following a sales funnel.

With years of experience in Digital Marketing and advertising, I have the skills to create content that brings a site to life. See some examples.



Marketing Material

Whether you are in the B2C or B2B category, your business will need the right marketing material to attract its target crowd.

Marketing material is a crucial element of your strategy and can include a variety of media ranging from downloadable PDFs to flyers and brochures. As an indispensable part of your marketing efforts, you need your material to be as effective as it can be. This is where I come in to help you achieve this goal.
Verticals/Topics I write about :
Lifestyle

Health

Information Technology

Personal Development

Business & Marketing

Others
Powered by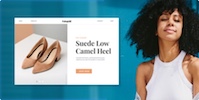 Create your own unique website with customizable templates.